The following actions are only available when using a Mari Version below Mari 4.7v1.

Mari 4.7 and higher provide sufficient Bake Point Functionality by default
NodeGraph / Right Mouse Click / Edit / Bake Points /
Main Window / Extension Pack / Nodegraph / Bake Points /
Shortcut:

(unassigned, use "Edit / Shortcuts" to assign)
---
While Mari ships with a number of tools to automatically update Bake Points that are empty or out of date, these tools only work
within the currently active Nodegraph. They do not update Bake Points that live inside of Subgraphs (Graph Groups, Materials).
With the new 'Smart Bake Hierarchy' Option, all upstream Bake Points are automatically updated. Regardless if they exist in the current node graph or are part of a subgraph.
lease note that only Bake Points are updated that are part of the stream.
Bake points within groups that are not connected to an Output that is part of the stream are not processed.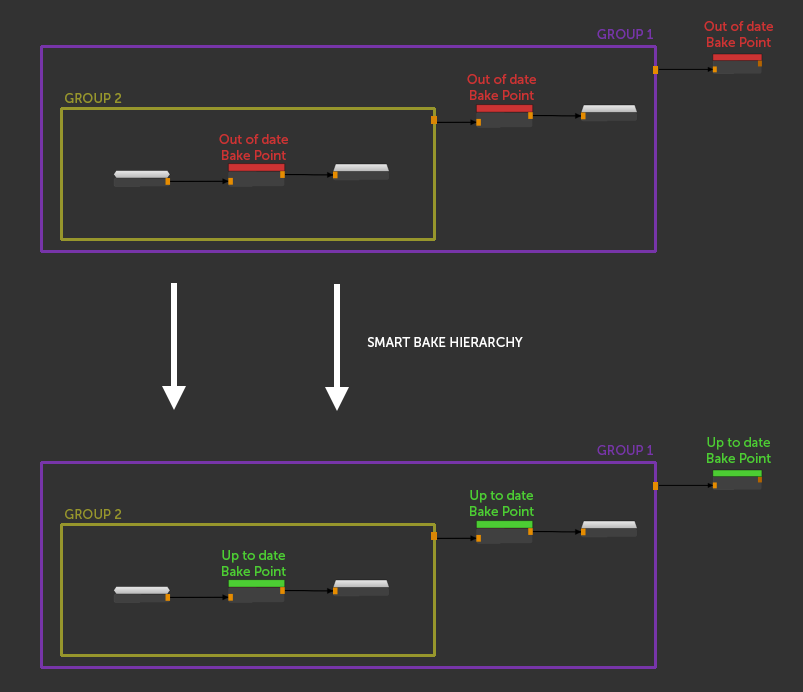 Additional Actions




The actions below are not embedded into the Mari interface but can be found under the Scripts

Menu and are available for Hotkey assignments in the Hotkey Editor






Main Window / Extension Pack / Nodegraph / Bake Points /
Shortcut:

(unassigned, use "Edit / Shortcuts" to assign)
---
Will force Bake any selected Bake Points